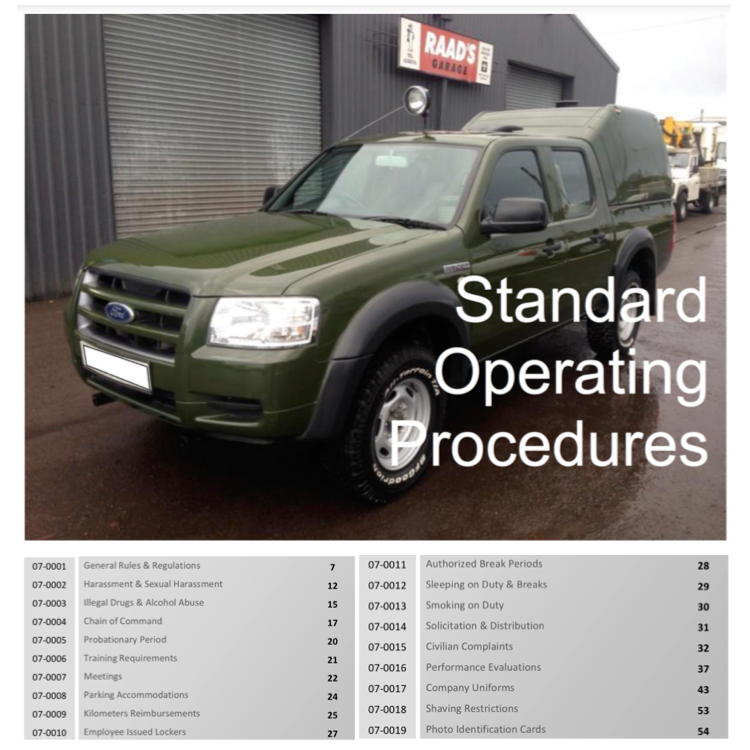 07-0001 General Rules & Regulations

Extract from the Sibannac Security Standard Operating Procedures:
PURPOSE
The purpose of this Standard Operating Guideline is to establish the General Rules & Regulations of Sibannac Security (hereafter referred to as the Company).

STANDARD OPERATING GUIDELINE
It is the Standard Operating Guideline of the Company to have employees become familiar with the following Company Rules & Regulations. The procedures below give a definitive course of action for all employees to follow.

PROCEDURE
A. GENERAL COMPANY RULES
All employees shall follow the Chain of Command. Those employees who have attained Administrative, Managerial, and/or Supervisory Positions are entitled to the respect and cooperation from all employees of the Company.
All employees shall treat each other and the public with respect.
Duties and responsibilities of each position as established will remain in effect. Position titles and duties may be changed only through the authorization of the Managing Director.
Employees shall keep all Company and/or Client Owned Vehicles, Equipment, and Facilities clean and in proper order at all times.
Any employee injured while on duty will notify their Immediate Supervisor or Senior Officer In Charge as soon as possible.
Employees may not borrow any Company and/or Client Owned Vehicles and/or Equipment without prior approval from their Immediate Supervisor.
Employees may not make a purchase on behalf of the Company and/or Client without prior approval from their Immediate Supervisor.
All employees shall take appropriate action to aid fellow employees' exposed to danger.
Employees shall not terminate or walk away from an assigned duty, post, or position unless properly relieved.
Employees shall not possess Company and/or Client Owned Equipment not assigned to oneself.
All employees shall give full attention to their duty performance. Failure to give suitable attention will be considered Neglect of Duty. Examples include, but are not necessarily limited to the following:
Failure to take appropriate action regarding any occasion deserving attention from the Company;
Unnecessary absence from one's assignment while on duty;
Failure to perform duties or failure to comply with all Standard Operating Guidelines, Rules, Regulations, General Instructions, Written, or Verbal Orders.
Further information (restricted file) >